It's beginning to look a lot like Weinachten ...
Christmas, in English
So those of you who followed my new baby blog last
Christmas
, already know my family does traditional German Christmas on Christmas Eve and Louisiana Christmas on the 25th. There's Lebanese food there too. We've been into this whole fusion thing since before it was a thing.
To kick off Weinachten, I'm going to give you our German Potato Salad recipe. A staple at each year's celebration.
Oma's Hot German Potato Salad
The Recipe, typed up by Oma
The Advent Calendar
Teaching kinder self control for a couple hundred years ...
This German tradition of a candy filled calendar made its way west in my childhood. The question is, were you the type of kid who ate all of your candies at once? Or did you patiently eat a chocolate a day. I was a patient kid, and my sister was an all at oncer. Who sometimes would move to my chocolate. Life sure can be hard on the little things ...
But before kids got chocolates and toys, the tradition originated with German Lutherans crossing off days on a calendar in the mid 19th Century. The tradition grew to include a bible verse a day or an image. Now, modern calendars hold a host of daily surprises.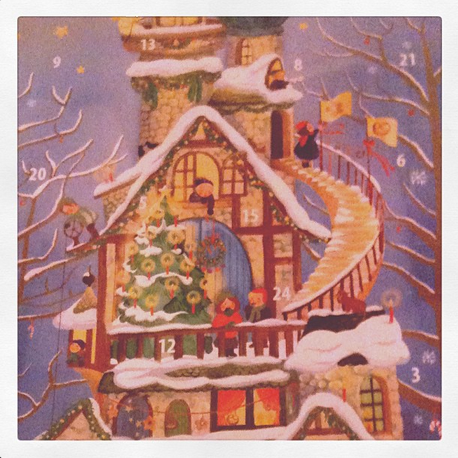 An instagram shot of this year's Advent calendar from Oma.




*Light on bliggity blog content today ... I am on deadline. Wish me luck! If you want to learn more about Weinachten — Bad Santa or Christkind — you're in the right place!